This week, you have really demonstrated the incredible generosity of our school community. Today, we welcomed teddies and other soft toys of various shapes and sizes into school in support of Children In Need. Not only was it a great way to add our support to this very worthwhile cause, but we all had great fun meeting everyone's teddy and hopefully all of the soft toys will have had a very exciting day in school!
Thank you Year 4 for your fabulous assembly reminding us all of the importance of Children In Need and how the money raised helps children around the country. They highlighted some of the local causes that benefit from our donations and it really demonstrated just how important these charitable donations are. Well done Year 4!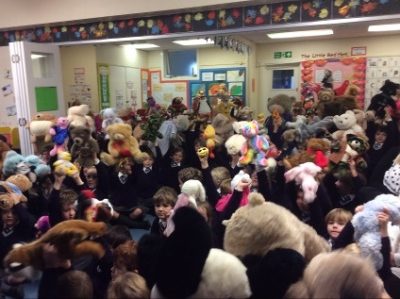 Earlier this week, the representative from Samaritan's Purse came to collect all of the shoeboxes. They were amazed when they counted up and discovered that there were 163 boxes! I really cannot thank you enough. It is amazing to think that 163 children somewhere in the world will have a special Christmas due to your generosity. I know that many families were incredibly generous and one little girl even used ALL of her savings to fill shoeboxes. Whether you were able to fill one box, or several, thank you.